We are delighted at the moment to have Julie Hooper return to the UK and ride with us this weekend, for the first time in 20 years. Julie was an incredible club member before she moved to Australia 20 years or so ago, and is one of our Life Members.
Julie is a huge inspiration for many of us at the club, and here is a piece taken from Mornington Peninsula News in Australia, which sums up why she is so important to us.
FIVE years ago, Julie Hooper's life changed in a split second, as her body was crushed by a sweeper truck that had rolled out of control.
In a coma for two weeks, Hooper woke to doctors telling her she was lucky to be alive, but that with a snapped collar bone, broken ribs and vertebrae, some brain damage plus a pelvis smashed in six places, the then 45-year-old had a long journey of recovery ahead of her.
Now, at the age of 50, Hooper has just won the road race and the time trial in the recent Women's National Paralympics C5 Challenge, amazing medical staff, her family and mostly herself.
Hooper basically had to learn to walk again after her accident, but was so determined to get her strength and fitness back that she returned to her childhood sport of cycling.
She still has no sensation in her right leg, and thus rides competitively in the C4-5 sections, which includes riders whose coordination is affected to a low level on one side or in the legs, moderately in one leg or the absence of limbs. Showing true grit and battling constant pain and road-related PTSD. Hooper is determined to keep pursuing sporting success, and is currently in training for the Virtus Oceania Asia Games 2023 in March in Brisbane, where she will compete against elite athletes from all over the world.
Because of nerve damage, Hopper has to have her right leg clamped to the bike, and has twice-weekly physiotherapy sessions to keep her body working properly, as well as sessions with a strength and conditioning coach five times a week to try to get the wasted muscles working again.
Abut, as far as Hooper sees it, she had two choices after the accident – either wallow on the sofa in pain, or endure the pain, try to have fun and enjoy life.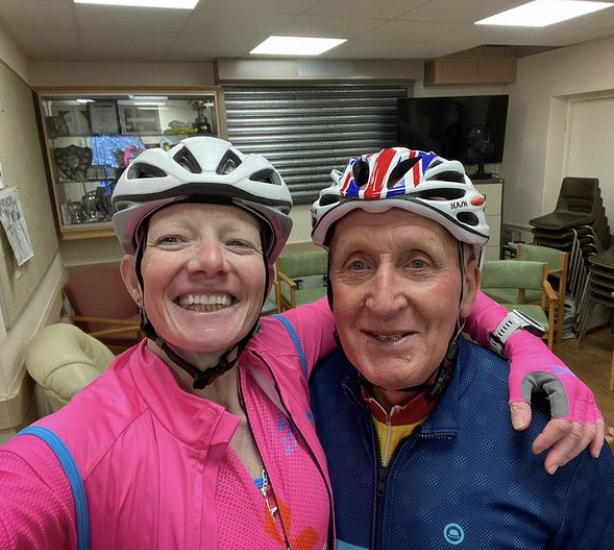 Julie with our club president, Mr John Hatfield.
This was special to witness as neither John nor Julie could control their emotions as they embraced. John is Julie's former coach and long term friend.
John along with another club legend Mr Tony Carpenter, are for sure, a pivotal part of Julie's love for cycling and instrumental in her racing pedigree.