Our Club Time Trial Series for 2023 in conjunction with Cardiff Ajax Cycling Club, will run every Thursday evening from May 4th to August 31st.
Sign on will be at our clubhouse between 6pm and 6:30pm. Cost is £5 per rider. We have TT bike and road bike categories, and 2ups, 3ups and 4ups. The first rider will start at 7:01pm. The Strava route can be found by clicking here. Event results will be posted on this page.
As per CTT regulations please ENSURE THAT YOU WEAR A PROPERLY AFFIXED HELMET and HAVE WORKING FRONT AND REAR LIGHTS (Failure to do so WILL result in you not being permitted to ride)
Our clubhouse will be open after the event, for tea/coffee and chat.
25th May 2023 – Club Time Trial
ROAD BIKES
22m 51s – Dave Godfrey
23m 09s – 4UP Rhodri Eynon, Darren Morgan & Barrie McGregor
24m 13s – Mohammed Mustafa
25m 02s – Matthew Jameson
25m 21s – 4UP Lianne Lusty, Justin Jones, Matt O'Brien & Leighton Tovey
26m 18s – Ross Porter
TIME TRIAL BIKES
21m 12s – Dafydd Jay
21m 24s – Dan Kingston
23m 15s – Sam Cook
24m 12s – Chris Seddon
25m 09s – Tia Froom
31m 14s – Kevin Thomas
18th May 2023 – Club Time Trial
ROAD BIKES
20m 26s – 4UP Dan Fox, Mike Fox, Luke Protheroe & Andy Davies
22m 40s – George Kimber
22m 41s – 4UP Gavin Jones, Chris Seddon, Aled Jones & Mohammed Mustafa
23m 15s – 2UP Richie Harris & Rhodri Eynon
23m 37s – 4UP Courtney Rowe, Lianne Lusty, Ross Porter & Darren Morgan
23m 50s – 3UP David Middleton, Mark Allen & Lutfi Shamsuddin
24m 31s – John Phipps
25m 14s – 2UP Liam Cawley & Mitch Long
25m 31s – Matt Jameson
25m 40s – 2UP Leighton Tovey & Michael Cheung
28m 21s – Kevin Lavelle
TIME TRIAL BIKES
21m 22s – Ross Hosking
21m 32s – Dan Kingston
22m 31s – Khalid Rahmani
22m 56s – Jon Vickery
23m 10s – Will Poole
23m 30s – Samuel Cooke
25m 50s – Dean Harris
11th May 2023 – THE MIGHTY TEAM TIME TRIAL event – For this event Cwmcarn Paragon & Cardiff Ajax hosted some of the best Time Triallists from around the South East Wales area, which was organised by Mr Courtney Rowe.
Thankfully the weather was kind to us for the event, and some impressive times were definitely made.
Thank you so very much to all the volunteers that made this event happen, it really is so very much appreciated.
Result board from the night…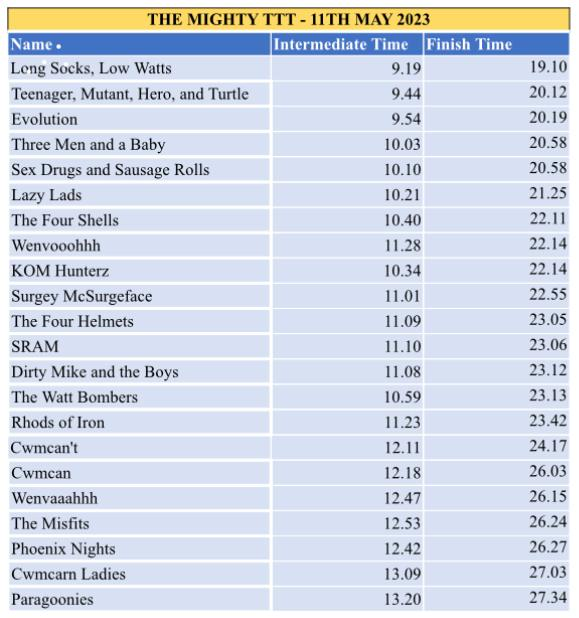 4th May 2023 – Unfortunately due to very bad weather, this event was cancelled.